The BrioAgro Aqua smart watering system for lettuce provides water and fertiliser when needed, saving energy, water and fertiliser.
BrioAgro Aqua in Lettuce
BrioAgro Aqua obtains all the necessary information in real time thanks to soil moisture, conductivity and temperature sensors together with climate information, i.e. relative humidity, temperature and brightness. With all this data, together with detailed knowledge of the soil type and the phonological state of the crop, irrigation is reduced.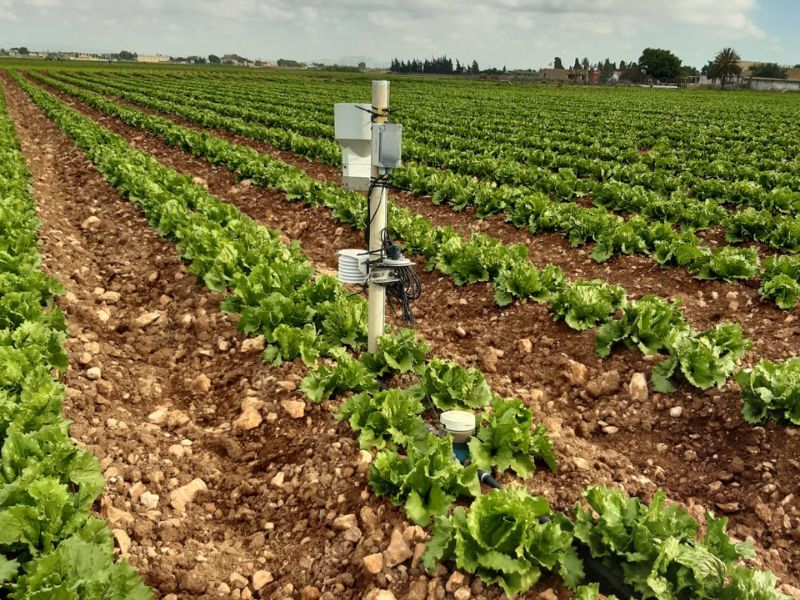 The system provides the right water and fertiliser at the right time, always aiming for the final quality of the lettuce.
Greater efficiency is achieved in the fertiliser, which is applied just when the plant can assimilate it, reducing leaching.
We achieve energy savings, with fewer minutes of irrigation, the lower the electricity bill.
In addition, the system can achieve much more significant savings, because by watering automatically, it uses the hours of reduced electricity tariffs, which change every day. In this way, irrigation is carried out at the cheapest electricity price, i.e. even achieving a 50% reduction in electricity costs.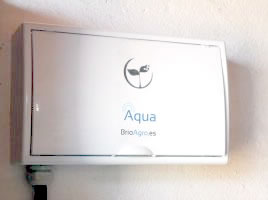 The BrioAgro Aqua is incorporated into the irrigation system by connecting to any type of solenoid valve. The controller is 12.24, AC-CD. It uses the Latch system for robotic activation of irrigation and fertigation in all sectors.
It is capable of controlling several meters, both general and fertiliser. It does not have a specific number of fertiliser tanks that it can control, we can incorporate everything necessary. Taking into account that it has level detectors.
It can also control:
Treatment tanks.
Pressure sensors for pipes.
Motorised battery charging, in case of solar energy use.
Unlimited number of sectors.
Fertiliser pump.
Water pump.
Cleaning of fertiliser lines.
Fertiliser agitation.
Irrigation pond management.
Pulse rain gauge.
Access to historical irrigation data and fertilisers used in irrigation.
Allows alternation between traditional programmed irrigation (remote control) and intelligent irrigation with sensors.
Monitoring (DSB)
The Brioagro Aqua system for lettuce takes climate and soil information into account to provide better results. That's why it consists of a moisture measurement at root level. This tells the plant when it needs to drink water.
In addition, we obtain geolocalised weather information up to 7 days in advance. Obtaining better results. It has sensors for ambient temperature, relative humidity, rain forecast, wind speed and direction, and finally cloudiness in percentage.
Access our application from your browser or download it to your mobile phone.