Signing of the collaboration agreement in the framework of the Emphasis initiative
(Euro-Mediterranean Network Facilitating Market Uptake of Innovations from SME), managed in Spain by the CTA (https://www.corporaciontecnologica.com/es/)..
The Spanish startup BrioAgro Tech was represented by its CEO, José Luis Bustos, while the Jordanian startup Smart Green (https://sg-agritech.com/) was represented by its CEO Mohammad Zeinati.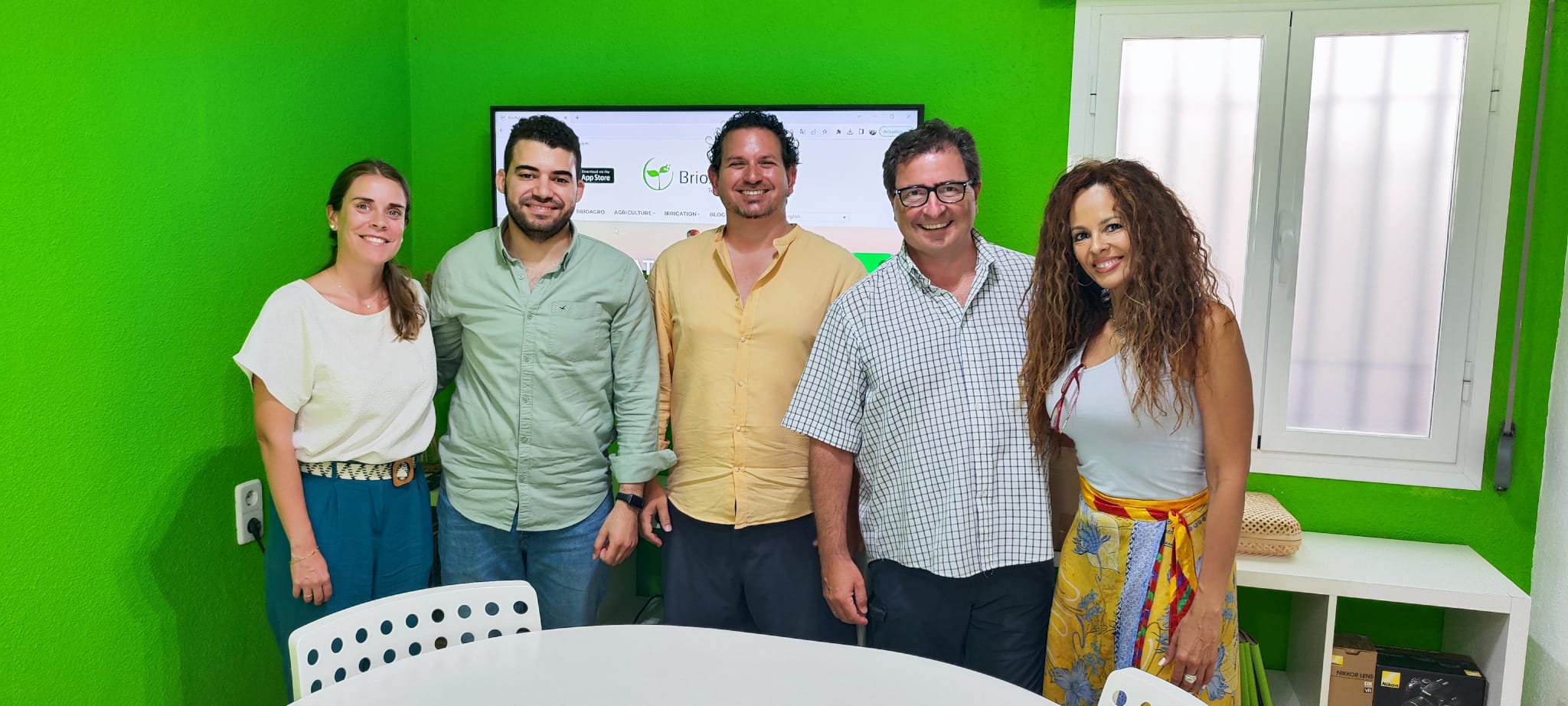 Pictured, from left to right, are:
Macarena Ureña (CTA)
Mohammad Zeinati (Smart Green)
Fran Guillén (BrioAgro)
José Luis Bustos (BrioAgro)
Maite Zúñiga (BrioAgro)
Description of the day's visit to BrioAgro's Experimental Farm and its headquarters.
After visiting Brioagro's orange growing facilities, where we could see different sensors installed in the soil (rainfall, temperature, humidity, etc.) and the fertigation/irrigation controller, Smart Green started explaining its technology for the smart irrigation and fertigation system, as well as its market strategy in the MENA region.
The following points were discussed:
-Jordan has more than 3,000 mega farms (50% of total land). They focus on large customers in the MENA region. At the moment, most of them use drip irrigation in a traditional way. Smart automation is needed to increase efficiency and reduce maintenance. They have a good market in Jordan, but their problem is the awareness of the farmers.
-1st technology developed by Smart Green: Fertigation. First irrigation control system in Arabic language. 2nd joint venture to develop a root detection system (monitoring system – Rootrika).
-Brioagro shows its initiative within the EIT Food initiative to scale up and test its technologies in different demonstration sites.
-Smart Green is entering the Saudi Arabian market (where digitisation of agriculture is supported by the government and the PepsiCo accelerator programme).
-Brioagro shares information on the pricing of the technology, but suggests that in the MENA region prices should be decided by local partners. Brioagro's business model is based on renting the devices.
Possibilities for collaboration:
-An NDA (non-disclosure agreement) is signed by both parties before information exchange begins.
-Smart Green is looking for a partnership/joint venture to expand in the MENA region. While Smart Green is on the ground/market, Brioagro could provide the system and technical support. Smart Green shares knowledge on greenhouses and hydroponics.
-A/B test, select demonstration farms in Jordan and Saudi Arabia for different types of crops (better than Jordan, as they already have many projects).
-Another idea: Test project on pivot irrigation of potatoes (also in Saudi Arabia). Smart Green already has access and invitation from a large agricultural company. Only the implementation remains to be tested. Supported by the PepsiCo accelerator programme.
-Fertigation project. Smart Green will invest in this project to test pH, EC, etc. sensors. Together with BrioAgro.